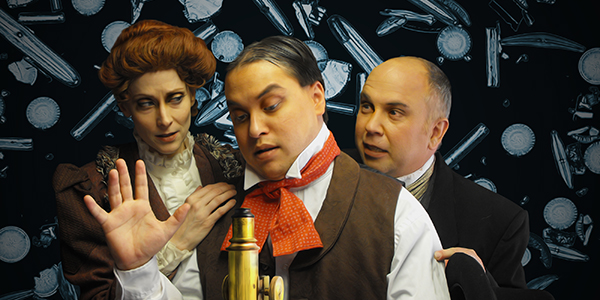 Hardcover Theater presents
The Diamond Lens: A Microscopic Fantasy of Love & Murder
English Scrimshaw Theatrical Novelties present
To Mars with Tesla; or, The Interplanetary Machinations of Evil Thomas Edison
WHEN
Fri. Apr. 27, 7 p.m.
Sat. Apr. 28, 7 p.m.
Sun. Apr. 29, 7 p.m.
Fri. May 4, 7 p.m.
Sat. May 5, 7 p.m.
Sun. May 6, 7 p.m.
Thurs. May 10, 7 p.m.
Fri. May 11, 7 p.m.
Sat. May 12, 2 & 7 p.m.
(The Diamond Lens runs first, then To Mars with Tesla. Each show is a little over an hour long. There will be a 10 min. intermission.)
WHERE
Open Eye Figure Theatre, 506 E. 24th St., Minneapolis
TICKETS
$15 adults, $12 students/seniors/Fringe button
No advance sales – pay at the door (which will open 30 min. before showtime).
Cash or check only – we're not set up to take credit cards.
To make a reservation, call 612.581.2229.
---
The Diamond Lens
Hardcover Theater's The Diamond Lens (based on the 1858 story by Fitz-James O'Brien) is a dark comedy about a young man who creates the most powerful microscope in this history of the world. In order to accomplish this, he needs supernatural help and must commit a terrible crime. But when he has succeeded, he finds himself enmeshed in a truly hopeless love affair.  More information…
Adapted & directed by Steve Schroer
FEATURING
Kezia Germ, Dawn Krosnowski, phillip andrew bennett low, & Tim Uren.
Music & Choreography: Angela Fox
Scenic Design: John Adler
Costume Design: Lisa Conley
Lighting Design: Ian Knodel
Prop Design: Phil Henry
Makeup Design: Dawn Krosnowski
Live Accompaniment: KT Thompson
Stage Manager: Tess Kean
Dresser: Pam Germ
---
To Mars with Tesla
English Scrimshaw Theatrical Novelties' To Mars with Tesla (based on the first part of the title of the 1901 novel by J. Weldon Cobb) is a staged silent comedy in which the extraordinary inventor Nikola Tesla propels himself across the vast ethereal gulf of space to the mysterious planet Mars where he must once again match wits with his evil arch-nemesis, Thomas Edison! More information…
Created by Adrienne English and Joshua Scrimshaw
FEATURING
Adrienne English, Kelvin Hatle, John Munger, Amy Schweickhardt, Joshua Scrimshaw, Dane Smith, and John Zeiler.