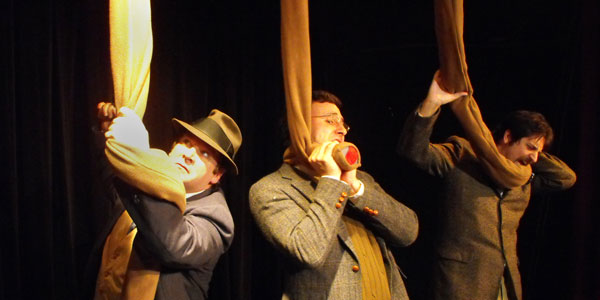 Three classic stories that ask the question, "What IS that thing?!?!"
Hardcover Theater is proud to present three classic stories never before seen onstage. In "The Beast with Five Fingers," a man is haunted by a severed human hand. In "Lukundoo," an African witch-doctor pronounces a terrible curse on a British explorer. And in H.P. Lovecraft's "The Dunwich Horror," something unspeakable tries to enter our universe by way of a small New England town.
Your host is a malevolent Librarian. The stories provide chills without gore. And there's plenty of comedy. Suitable for all ages.
Adapted by Steve Schroer
Directed by Steve Schroer and Paul von Stoetzel
Music by James Lekatz
FEATURING
Timothy Daly, Phil Henry, Brian Hesser, Ariel Pinkerton, Arnie Roos, & Ben Tallen
Stage Managed by Stephanie Cook
Costume Design by Marit Ripley
"Lukundoo" Monster by David Lind
"Dunwich Horror" Monster by John Adler
Sound Design by Ryan Ripley
PRESS
"Great fun…exceptional acting…the multiple casting style allows the ensemble…to shine."
– John Olive, HowWasTheShow.com
"Doggedly original…in a distinctive style"
– Quinton Skinner, Metro Magazine
WHEN
October 15 – October 21, 2010
WHERE
The Bryant-Lake Bowl
IMAGES
[AFG_gallery id='1′]