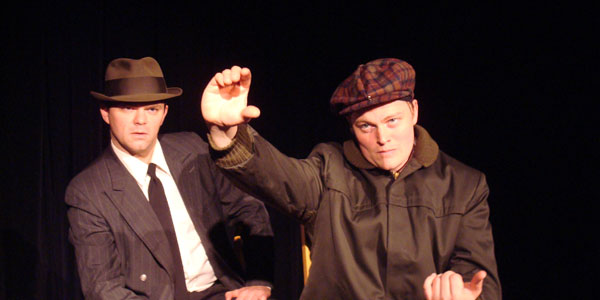 Trashy Stories from Cheap Magazines
Take a wild ride through the popular fiction of the early 20th century! Brand-new, fast-moving adaptations of five stories in various genres.  All staged in Hardcover's innovative style. Admit it – you like this kind of garbage!  Featuring:
Box-Car Buckaroos
Three cowboys. A posse on their trail. An unexpected twist.
City of Blood
Private detective Race Williams is hired to clean up a town taken over by gangsters.
The White Lady 
A young wife fears she's losing her husband. And her rival isn't even human.
Seagoing as Hell
Pop Milliken had forgotten more about submarines than his captain ever knew.

Lost Civilization
Jungle adventure leads to jungle romance and back again
Created by Nathaniel Churchill, Ryan Ripley, Steve Schroer, and Paul von Stoetzel
FEATURING
John Adler, Marit Geston, Damian Johnson, Ryan Parker Knox, Laurel Orman, Matt Spring, and Ben Tallen
Stage Manager Sarah Bauer
Scenic Designer John Adler
Sound Design by Mark Manns
Costume Designer Sara Wilcox
Costume Assistant Marit Geston
WHEN
November 8 – November 23, 2008
WHERE
The Bryant-Lake Bowl
IMAGES
[AFG_gallery id='3′]