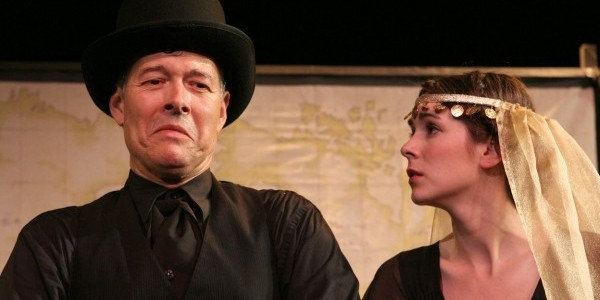 The fourth biggest selling show at the 2007 MN Fringe.
Jules Verne's classic adventure novel is a very big story that has been made into two very long (and very boring) movies. Inspired by the 60-minute limit that the Fringe imposes on most of its shows, Hardcover Theater has posed itself a challenge: to tell this story in less than an hour, using only five actors.
Thus, as the characters race around the world, the actors race against a digital timer. The result is an amazingly fast-paced play, full of action, comedy, and imaginative staging. From a gentlemen's club in London to the jungles of India, from a Chinese opium den to the American Wild West, Around the World in Eighty Days in Under Sixty Minutes delivers fifty-nine minutes and fifty-nine seconds of breathless fun. Suitable for all ages.
Adapted and directed by Steve Schroer
FEATURING
Jim Pounds as Phileas Fogg, Chris Kuisle as Passepartout, Dave Gangler as Detective Fix, Amber Swenson as Aouda, and E.J. Subkoviak as everybody else.
WHEN
2007 Minnesota Fringe Festival
WHERE
Mixed Blood
PRESS
"A jolly, funny, and thrilling ride"
– City Pages
"The wildly hilarious cast does an awesome job"
– Pioneer Press
"The audience laughed and applauded throughout"
– Star Tribune
IMAGES
[AFG_gallery id='9′]