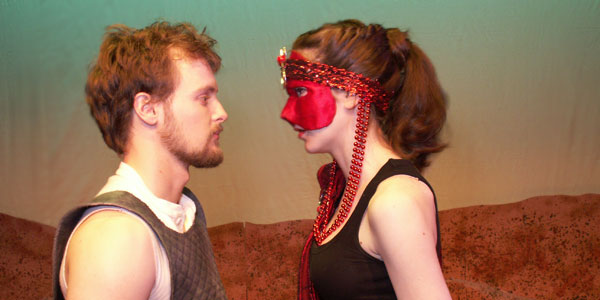 A Princess of Mars begins when Civil War veteran John Carter is mysteriously transported to the red planet, where tribes of Martians live in a state of perpetual warfare. His Earth-acclimated muscles make him the greatest warrior of them all; but martial honor means nothing to him, because he has fallen in love with a beautiful Martian princess. Does she love him in return? He must fight his way across the planet to find out.
This production – written and directed by producing artistic director Steve Schroer – will be staged with more raw theatricality than any previous Hardcover show. Masks and puppet heads will help to present Martians and the weird native wildlife. Costumes and other design elements will draw upon Earth cultures from Africa to China to ancient Egypt. And our hero will leap a hundred feet! (Theatrically, not literally.)
A Princess of Mars is a good old-fashioned pulpy adventure story – fun even for people who aren't big fans of science fiction. Although the show contains scenes of stylized violence, we consider it suitable for anyone who isn't frightened by actors talking like scary monsters.
Based on the novel by Edgar Rice Burroughs
Adapted and directed by Steve Schroer
WHEN
May 11 – June 4, 2006
WHERE
The Playwrights' Center 
PRESS
"Enchanting… Children will love the show's bright, snappy style and adults will appreciate its wisdom."
– John Townsend, Minneapolis Star Tribune
VIDEO
IMAGES
[AFG_gallery id='5′]