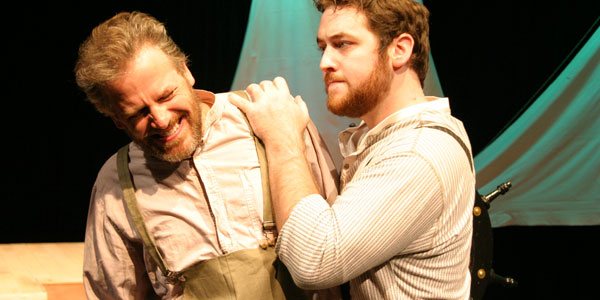 "Being in a ship is being in jail, with the chance of being drowned."
– Samuel Johnson
Any serious Jack London fan will tell you that The Sea-Wolf is the best thing the author ever wrote. Not only is it a gripping adventure story – it's also a penetrating study of human behavior. Now Hardcover Theater brings this book to the stage for the first time.
The setting is a ship called the Ghost whose captain, Wolf Larsen, loves to drive his men to the point of mutiny so that he can have the pleasure of beating them into submission. But Larsen isn't just a brute – he's an intelligent, articulate nihilist whose actions are in perfect accord with his philosophy.
When the Ghost rescues an educated gentleman from a shipwreck, Larsen at last has found someone with whom to discuss his ideas. Then an attractive young woman comes on board, and things start to get really ugly…
The Sea-Wolf features Bob Malos – known for his portrayals of charismatic and physically commanding characters – as Wolf Larsen.
Based on the novel by Jack London
Adapted for the stage by Steve Schroer, Mark Jensen, and Justin Maxwell
Directed by Bryan Bevell
FEATURING
Bob Malos, John Adler, Tony Brown, Gregg Bush, Lindsay Goss, Bob Hammel, Ryan Kathman, Alex Moros and Jared Wills
WHEN
May 6 – May 29, 2005
WHERE
The Playwrights' Center
PRESS
"This handling of the horrible captain Wolf Larsen's saga was as smart and entertaining as anything I saw last year."
– Quinton Skinner, City Pages' The Year in Theater 2005
IMAGES
[AFG_gallery id='11']