surreal comedy          family-friendly          but very, very          weird
HIGHLY THEATRICAL! Like an animated cartoon onstage!
Saturday, August 2, 2:30 p.m.          Monday, August 4, 8:30 p.m.
Tuesday, August 5, 5:30 p.m.          Friday, August 8, 10:00 p.m.
Saturday, August 9, 8:30 pm
Music Box Theatre
1407 Nicollet Ave
Minneapolis, MN 55403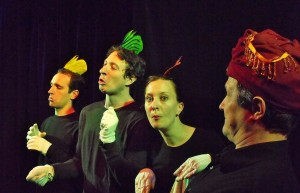 The premise is simple: At bedtime, a man eats Welsh rarebit – a fried cheese dish – which gives him indigestion, which causes nightmares. Over and over again. And in those nightmares, anything can happen…
based on the early 20th-century newspaper comic strip by Winsor McCay.
featuring Ware Carlton-Ford, Eric Cohen, Jason Kruger, Mickaylee Shaughnessy, Alissa Shellito, and Edwin Strout
written & directed by Steve Schroer
original music composed by Jamie Fassett-Carman
music performed by Karen Schilling
stage managed by Liz Capouch & Andrew Dyrud
costumes by Lisa Conley
tech by John Adler & Bryan Gunsch
graphic design by Peter Schroer